A story I would like to share, on hearing that Patrick Moore passed away today (or perhaps yesterday). Already twitter is filled with a mix of sadness at his death and discussion of his positive legacy for science, but also reminders of his sexist comments and fairly extreme right wing views. I think it's OK to talk about both these things, challenging the latter and celebrating the former.
When I was much younger I was a huge astronomy nerd and Moore was obviously an icon. When I was perhaps around 11 or 12 I was at an astronomy conference in London with my mother, who would escort me to astronomy weekends, observatory viewing sessions, and events like this. Yeah, I know, I was a weird kid. During a coffee break at the conference, Patrick Moore was there just sort of hanging out, and my mother encouraged me to go say hello.
I did, and Moore was charming and friendly. He was obviously pleased that I was so enthusiastic about the subject, apologised that he couldn't talk for longer, and invited me and my mother to come visit him in Selsey. We arranged a time to do so via post (imagine, using the postal service to arrange a meeting!). I even kept his typewritten notes to me, see below, so I must have been a bit starstruck (pun intended).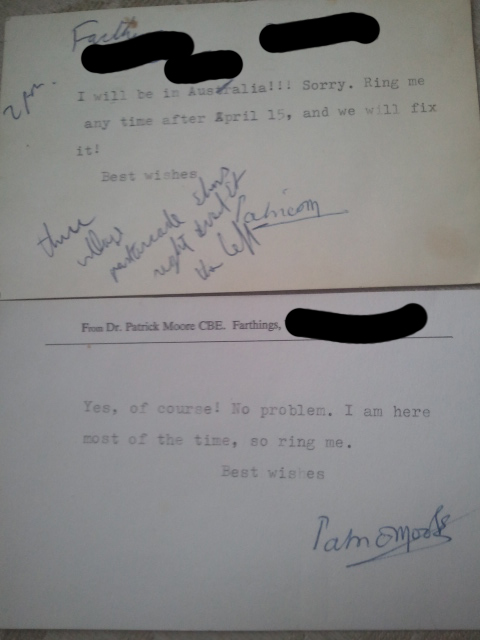 We went to visit during a holiday nearby, and he was a great host. He showed us his telescope (no jokes please, seriously) and various bits of astronomical equipment and garden observatory. Finding out that I played music, he played his xylophone and recordings of some marches. We had tea and cake. He was clearly keen to encourage my interest in astronomy and science. We left after a couple of hours of visiting and that was the end of any correspondence, beyond a thank you letter from me of course, but the encounter left a huge impression on me.
Years later, I was immensely disappointed to discover his political views, and especially disappointed to hear his sexist comments about women ruining TV and so on. How to square this with the avuncular character I'd met who was so supportive of my enthusism for science? People contain multitudes, I guess. His views are clearly more complex than the impression you get from what is reported, but this isn't a defence of them. It's disappointing that he wasn't challenged more on this in his lifetime.
We sometimes forget that people in the public eye are as nuanced, messy and complicated as any of the rest of us, and we shouldn't expect them to be otherwise. We can be grateful for Patrick Moore's kindness and great work in popularising astronomy and angry about his views at the same time.