This follows Part One of DC/NYC: an epic museum tour which talked about my visits to  the National Cryptologic Museum, The Renwick Gallery and the National Museum of Natural History (featuring instagram uses in a museum, a great use of augmented reality and brilliant docents). (Part Three, the final part, on the New York Hall of Science and Brooklyn Museum, now live).
By Tuesday 24th November I had moved on to New York, staying in Brooklyn with family. Since my Frankly, Green + Webb colleague Laura was staying not far from New York, she and I took the chance to meet and spend the day visiting the Cooper Hewitt (the Smithsonian Design Museum) and trying out their Pen and other interactives, and then on to see the Met's MediaLab. The next day I went to take a look around the American Museum of Natural History.
Cooper Hewitt: collecting, immersion and serendipitous browsing
So first to the very grand environs of the Cooper Hewitt museum, previously the Carnegie Mansion, to try out the Pen we had heard so much about (and see the collection, of course). In case you've missed all the discussion about it, it's a tool to encourage visitors to be more active in the space, collecting and saving objects to view later. In some ways I guess it formalises the existing visitor habit of collecting objects by photographing them and takes it a few steps further.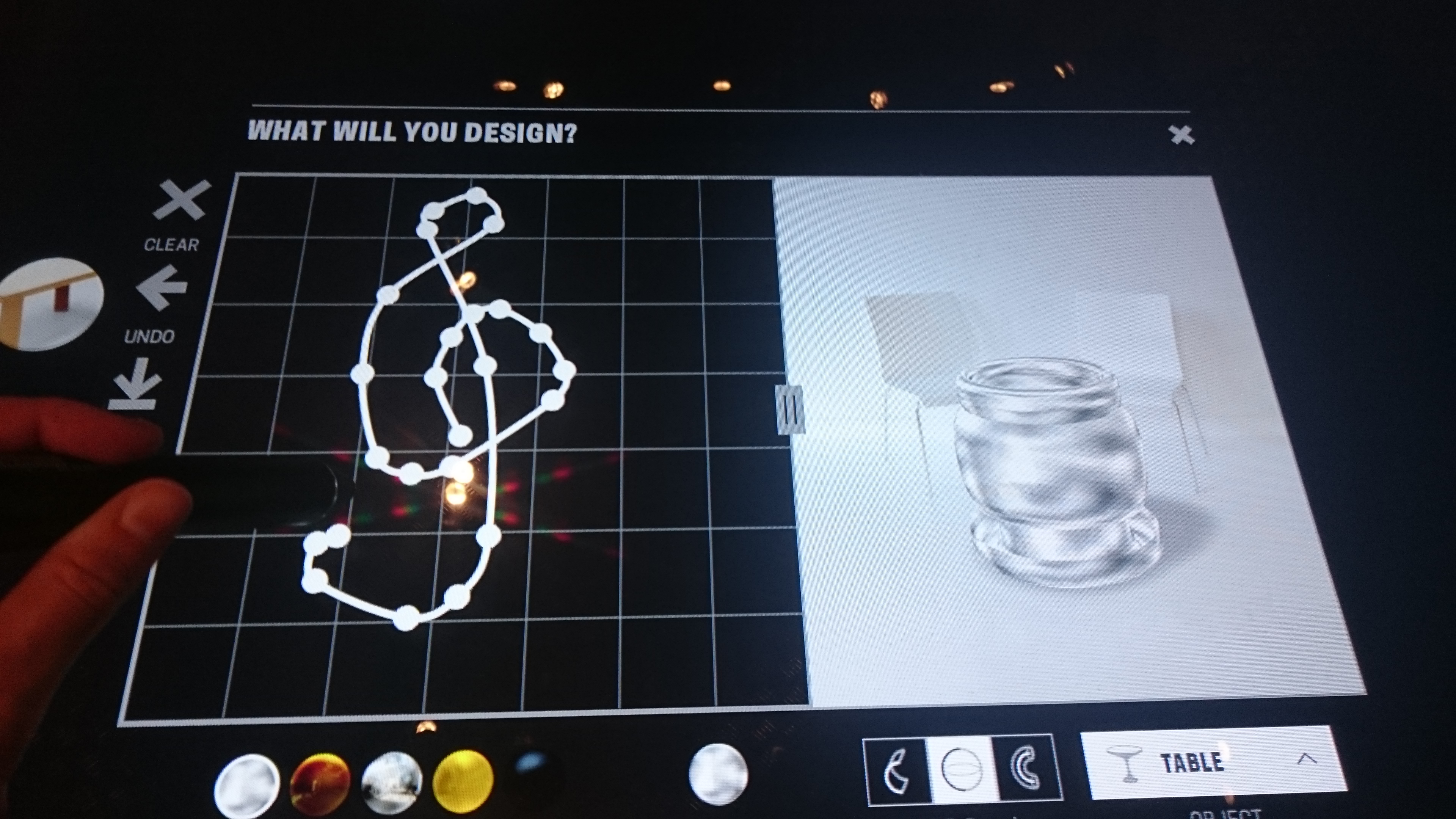 The pen itself is very nice to use, chunky but comfortable, simple to operate. It works as a large stylus at one end, and has a collecting tool at the other which you can use on object labels (with an RFID chip in them) to add them to your collection. There are large interactive tables throughout the galleries that feature a design tool (make your own chair, building, or thing), ways of browsing the collection (object pictures drift past like sushi on a conveyor belt and you can grab them to get more details, or search via related tags), and ways of pulling up what you have collected so far. After the visit you can also see your collection on the website.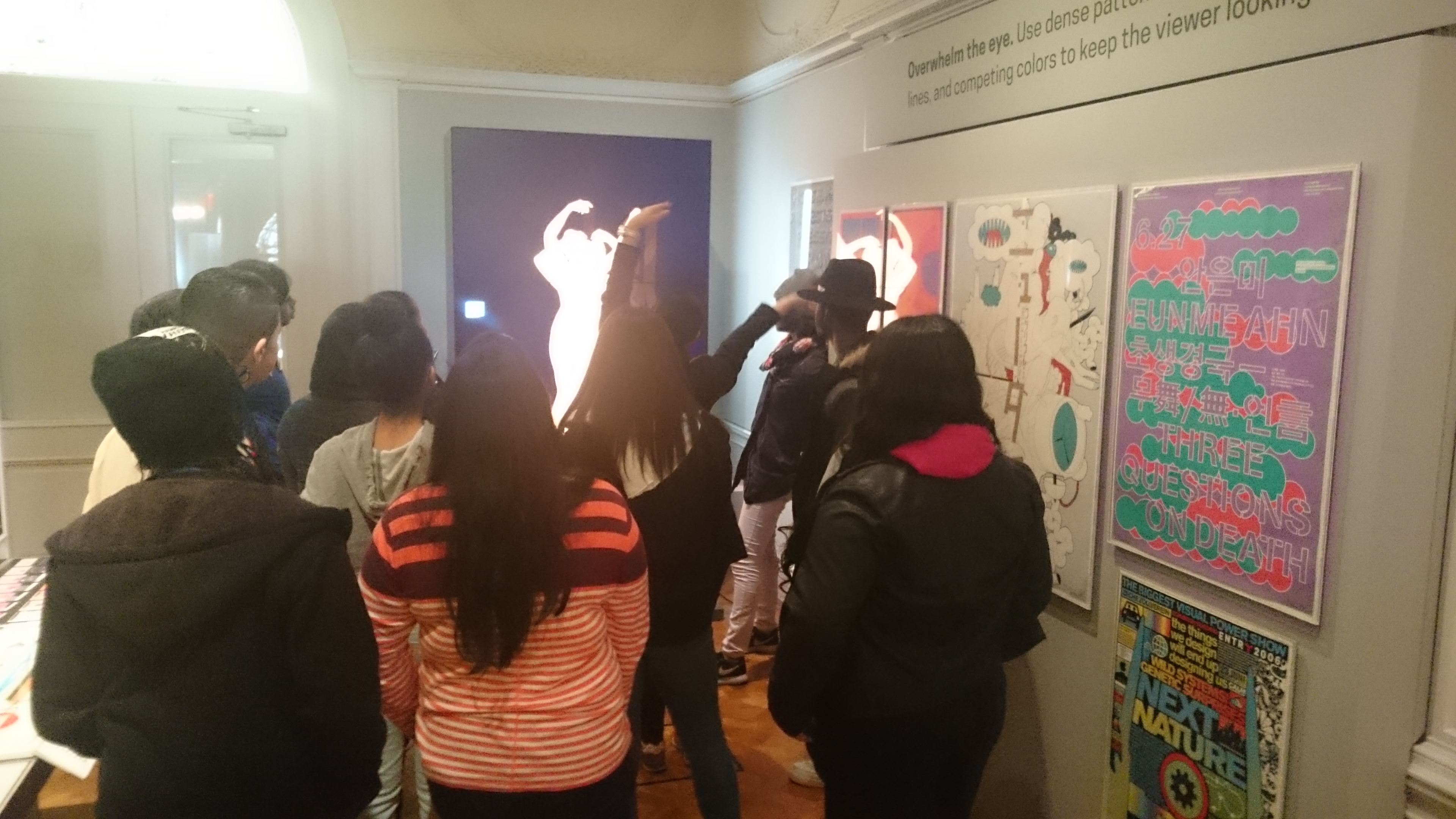 The staff are there to give some orientation, one of whom gave us an extra steer in using the design tool that was really helpful. I enjoyed playing with this feature (but wasn't quite sure where to go with it once I'd messed around with it a bit, I wonder how this could be extended?). Laura and I both spend quite some time browsing objects on the big table, it's a nice way of just seeing what grabs you and following that down a rabbit hole. You can also browse the collection by just drawing a shape, which then searches for something else with the same shape (elsewhere you can also do this on a big screen with gestures – see pic). A nice playful interaction.
The great FGW NYC museum tour begins at the @cooperhewitt #musetech pic.twitter.com/DhG8i9ESZ9

— Frankly Green + Webb (@FranklyGW) November 24, 2015
It didn't occur to me whilst there to collect objects in the cases to look up more information on them whilst there. This would probably have been useful at the time to answer questions I had about some objects. I wonder if there are ways to get at more interpretation by doing that, e.g. a glossary of terms or something. It feels like there is potential to do even more with the pen, so am keen to see how that develops.
For me, the standout was the Immersion Room, which was an experience I could have spend hours in, probably. It is linked to the wallpaper collection, something I have a particular interest in anyway, and allows you project designs from the collection up onto the wall, browse around related designs and listen to experts talking about them. Rather brilliantly, you can also design your own, which is then tiled and projected on to the wall. I made a rather slapdash effort, so being immersed in that was possibly a bit of a trial for everyone else in the room, but I bet some visitors have done some really beautiful things for it (and no doubt, some very crude things, but you can't stop human nature). My post-visit collection from the Cooper Hewitt is here.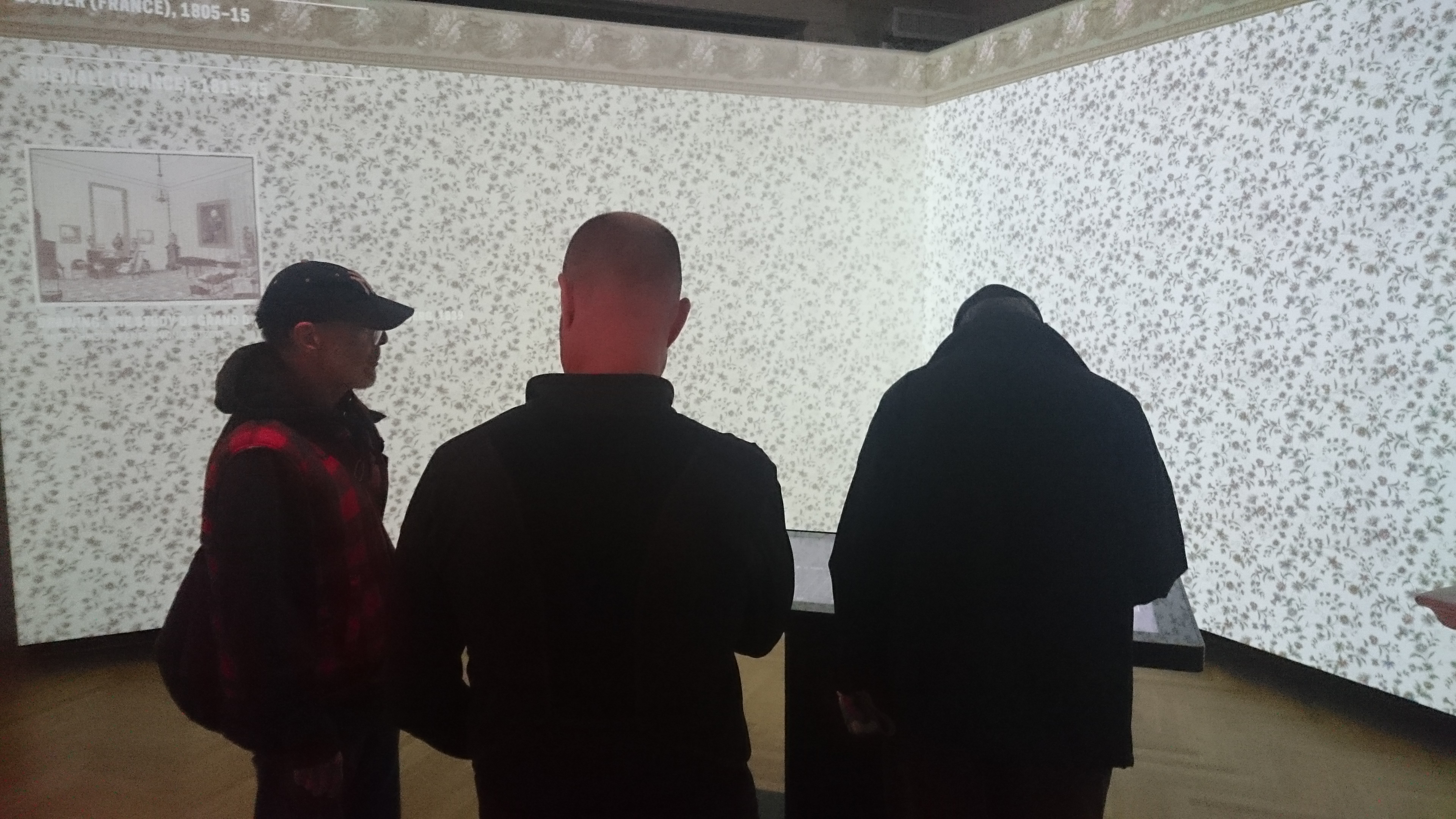 The Met Media Lab: robots and other fun stuff (envy)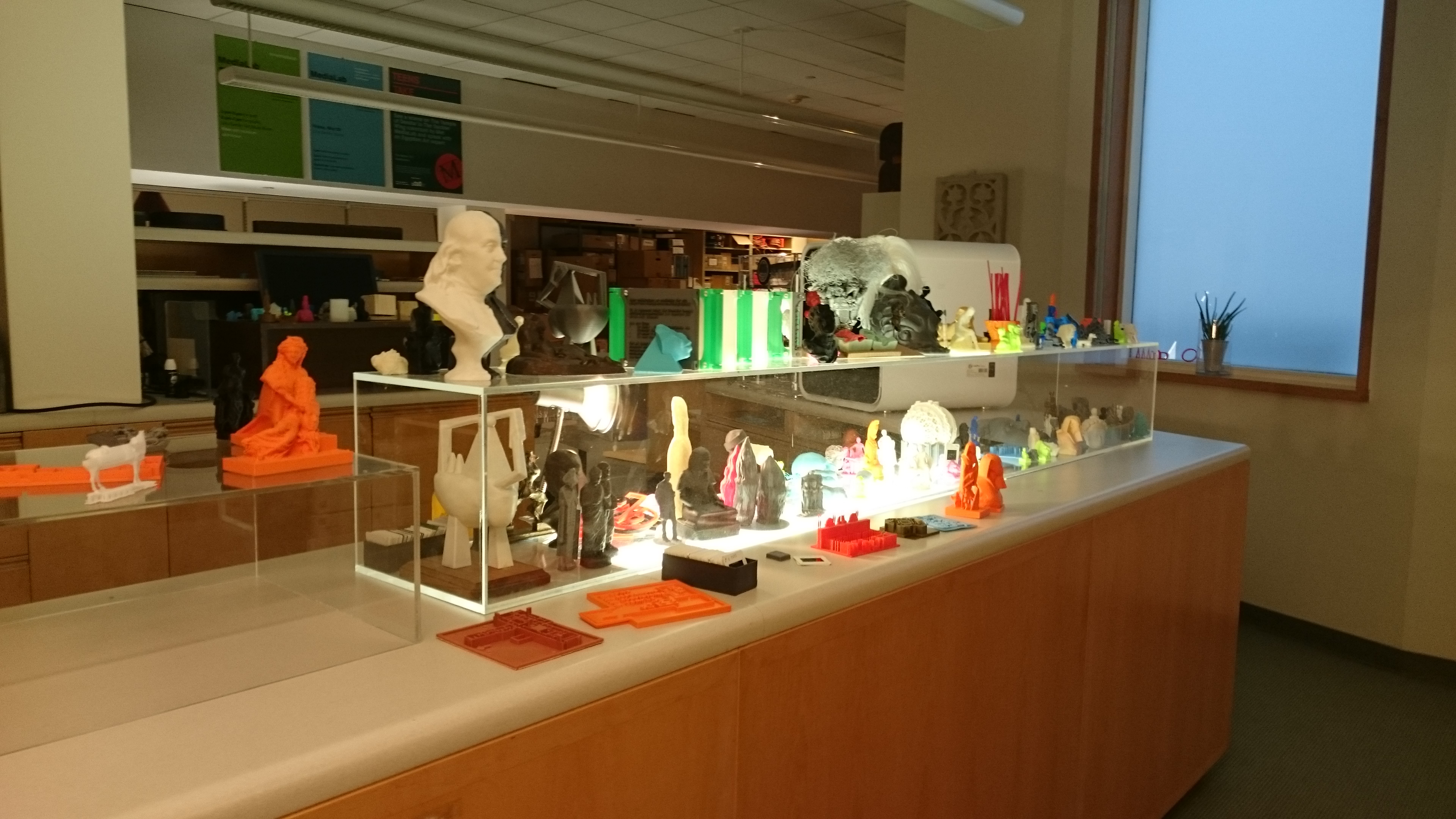 In the afternoon we went to meet Elena Villaespesa, who used to work with me at Tate doing clever things with analytics, and is now Digital Media Analyst at the Met. We also met Marco Castro Cosio, head of the MediaLab, who gave us a tour. They have all the fun toys – a robotic arm, telepresence robot (which has been used at some events, I think they said, so that people can attend at a distance), a 3D printer (which had been used to recreate a museum object in sugar, though no-one had had a nibble yet) and were also doing some nice stuff with projection mapping to show the true colours of an Egyptian tomb. Thank you to Marco and Elena for showing us around!
Will definitely be keeping an eye on the Met MediaLab blog in future. Apparently they are not alone, Labs seem to be quite the thing these days (h/t Lindsey).
We've found < 40 labs in the cultural sector. Should they work together to drive change?/#openlabworkshop #openGLAM pic.twitter.com/dJUZHIIPtX

— Openlab Workshop (@OpenlabW) November 30, 2015
The American Museum of Natural History: games, more robots, Opulent Oceans.
The next day I met Barry Joseph, Associate Director for Digital Learning at the American Museum of Natural History (or AMNH). I was particularly keen to hear about their work with games, and loved the fact that they had been working on card games such as this one, Gutsy. Card games and the like could be such a perfect fit for so many museums, and you can sell them in the shop, they make a nice gift. Win/win. Anyway, Barry gave me a tour of their new Microrangers game , an impressive piece of tech that combines AR, minigams and a kind of treasurehunt around the gallery. It just launched officially this week.
And so it begins. #MicroRangers @AMNH https://t.co/98Ih128GY5

— MooshaMooshaMooshme (@mmmooshme) December 7, 2015
He too has a telepresence robot, and kindly gave me a demo. They had used it to bring voices into the gallery, e.g. Canadian First Nation curators based elsewhere being able to interact with visitors. Tate has done the After Dark project with similar robots, but has anyone else in the UK? I like the potential, and the way that both the Met and AMNH were using them. Very interesting, thank you to Barry for taking the time to meet!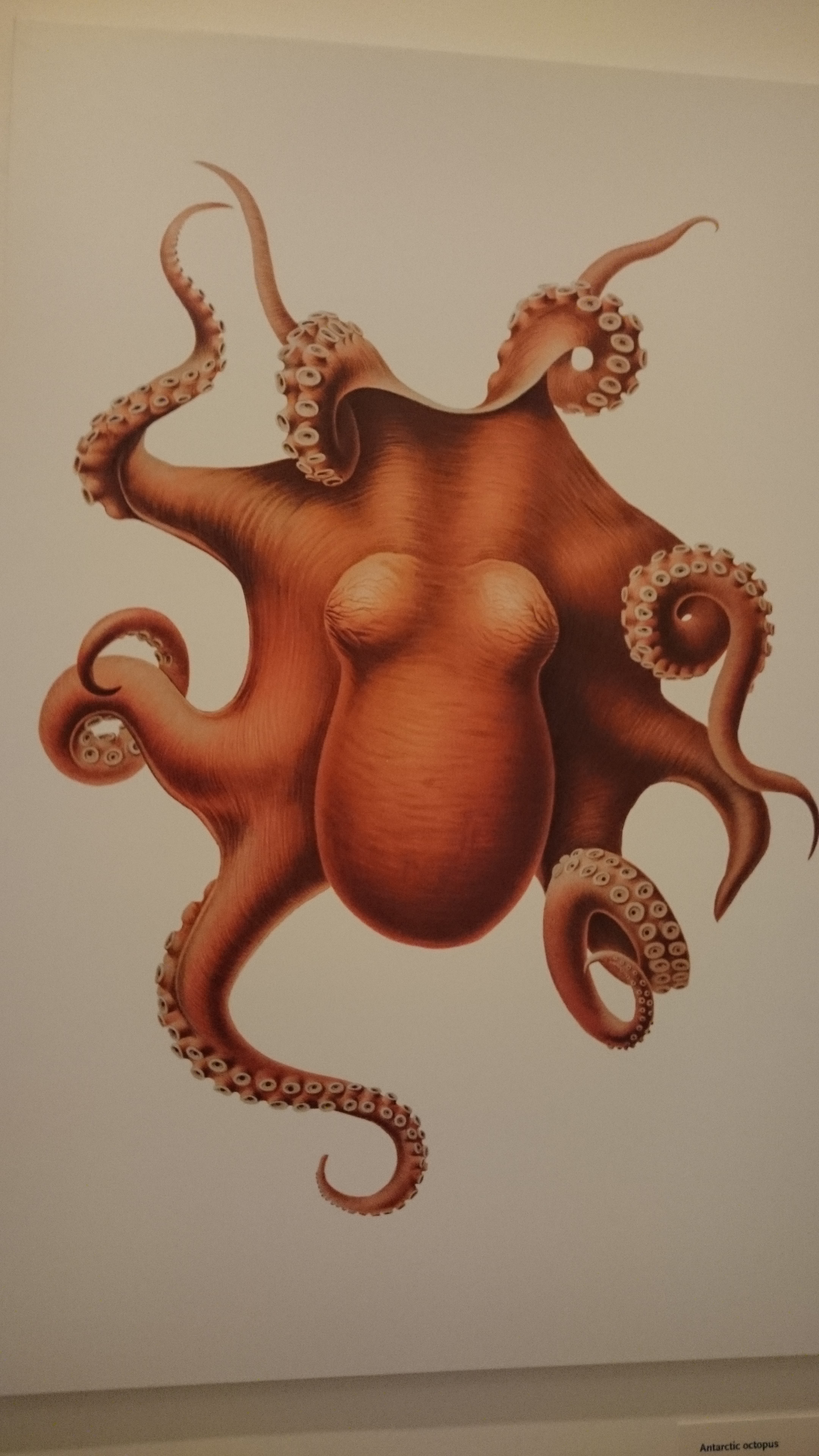 Also at AMNH was the very shiny and interactive Secret World Inside You, and the utterly gorgeous little Opulent Oceans exhibit of sea life themed artwork. From my twitter page, you might guess that I'm already in love with Ernst Haeckel's work, so I was very excited to find so many other artists who had done beautiful work in this area. The latter is also collected in this book and ah, it's Christmas coming up. So, you know…
(Part Three now live, with visits to see Connected Worlds at the New York Hall of Science and Ask at the Brooklyn Museum)