This follows Part One of DC/NYC: an epic museum tour which talked about my visits to the National Cryptologic Museum, The Renwick Gallery and the National Museum of Natural History (featuring instagram uses in a museum, a great use of augmented reality and brilliant docents) and Part Two in New York, with visits to the Cooper Hewitt, Met MediaLab and the American Museum of Natural History (robots! games! the Pen!). This is the final post (I promise).
The New York Hall of Science: Connected Worlds, hands on everything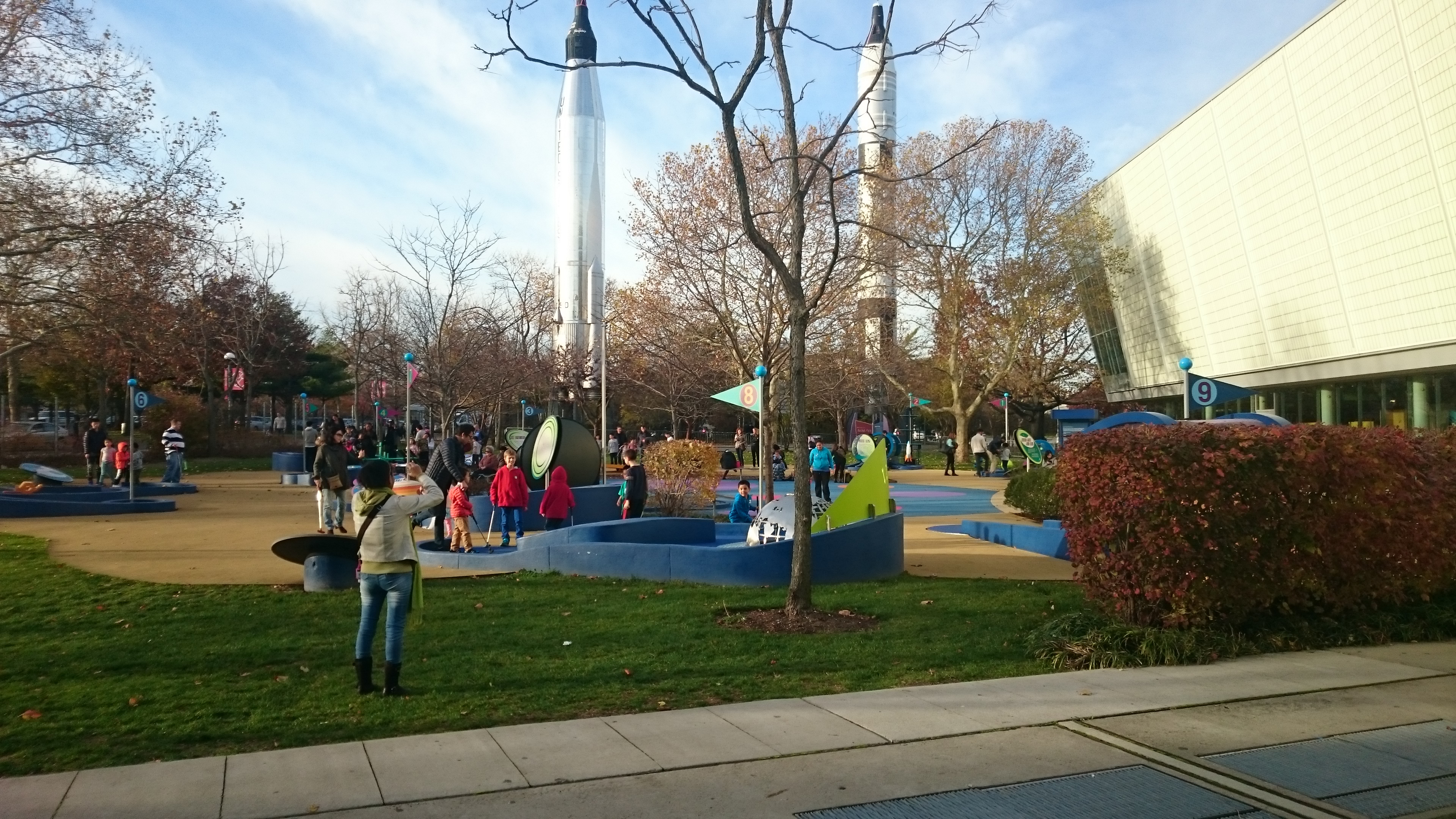 On Friday I dragged my family in a post Thanksgiving blow-out haze to the New York Hall of Science at Corona Park in Queens. I don't think they were pleased about the hour long journey from Brooklyn, but ended up having fun playing with all the hands-on exhibits about various aspects of science. I LOVED their demonstration of cosmic rays zipping through a cloud chamber before your eyes. And I also loved the idea of science themed mini golf. The interactives may not all be the most technologically advanced, but they got you involved, and genuinely helped you understand things.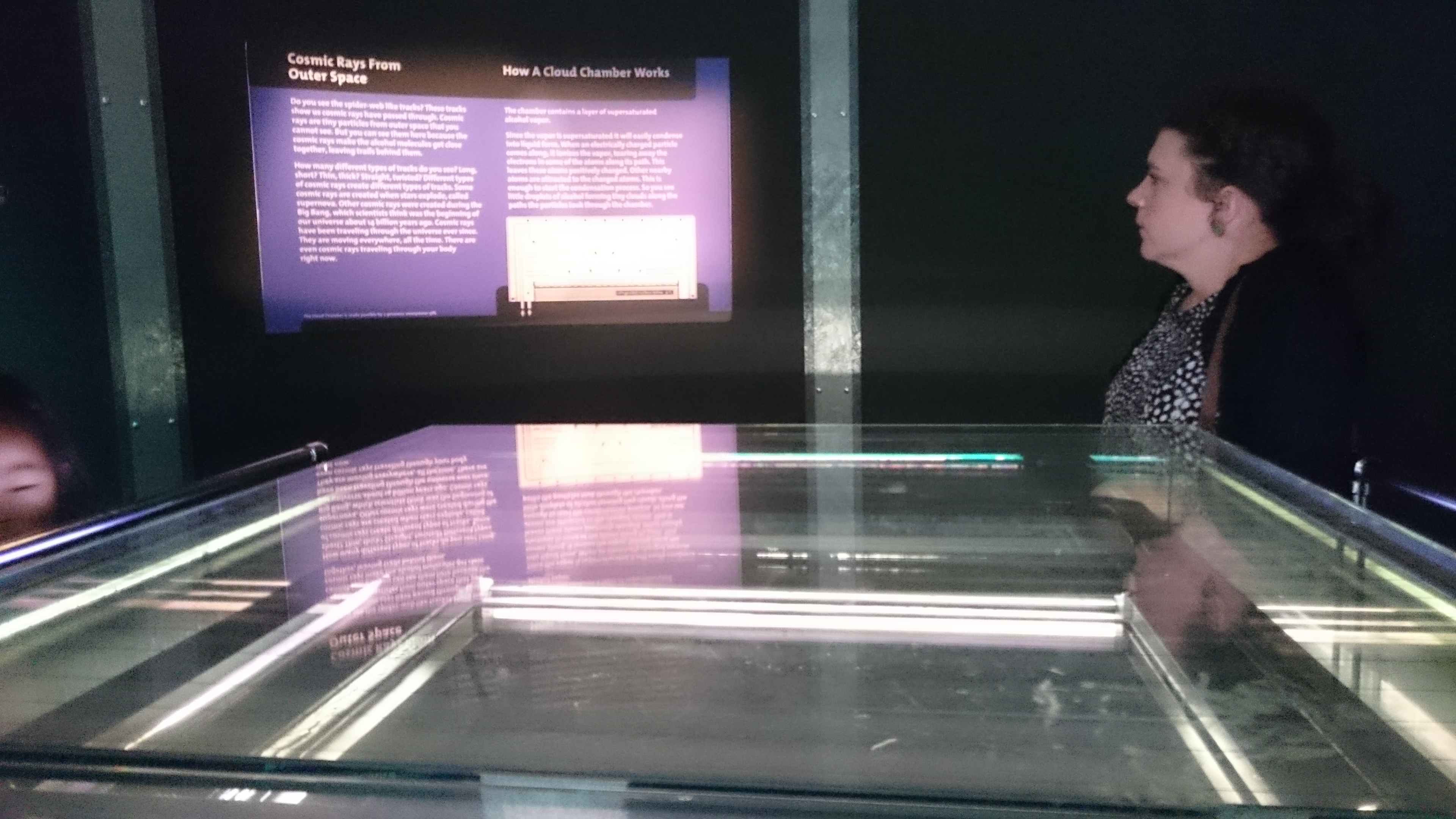 The main reason for going there, though, was to see the Connected Worlds game/installation about keeping an ecosystem in balance. If you are picturing something on a screen, or even a touchtable, think again. This is COLOSSAL. See the picture below. It has two vast screens around a central circular area. Between the screens is a tall screen depicting a waterfall, which then runs as a stream across the floor. Players can interact with what's happening on the screen by making hand gestures, or moving logs around on the floor which translates into planting seeds to grow plants and move the water to where it needs to be. It appeared to get more advanced as the game, played in half hour sessions, goes on (I didn't get a go, we didn't have time to wait).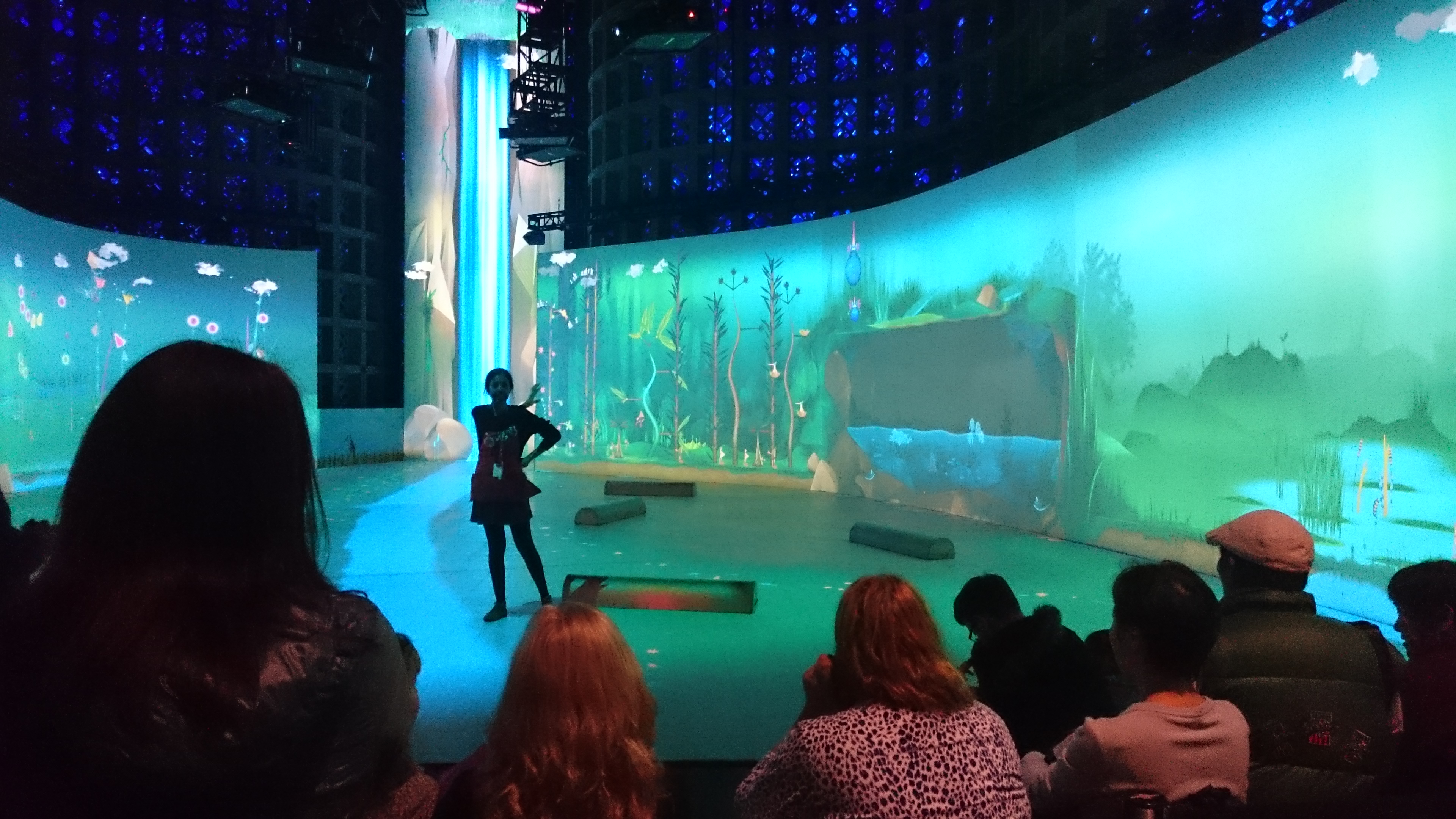 It is absolutely spectacular, make no mistake. Visitors, nearly all of whom appeared to be family groups with young kids when I was there, seemed to pick it up easily and were clearly absorbed by the interactions. It is like nothing else I have seen in a museum before, I don't think. It's really beautiful, and seems to work, technically, very well. The only dampener was my slight suspicion that visitors weren't necessarily getting the most possible out of the experience. It's meant to be about keeping the world in balance, yet I didn't see people outside of family groups working together much.
I also didn't get the sense that people were getting the nuances of what was happening, or making informed decisions (rather than just playing around), and given the young age of many participants, fair enough perhaps. However, I wondered if more hands on facilitation and scaffolding of the experience might make it even more powerful. For example, pointing out things that were happening to the whole group, or setting shorter term goals, adding drama, turning it into a story, etc.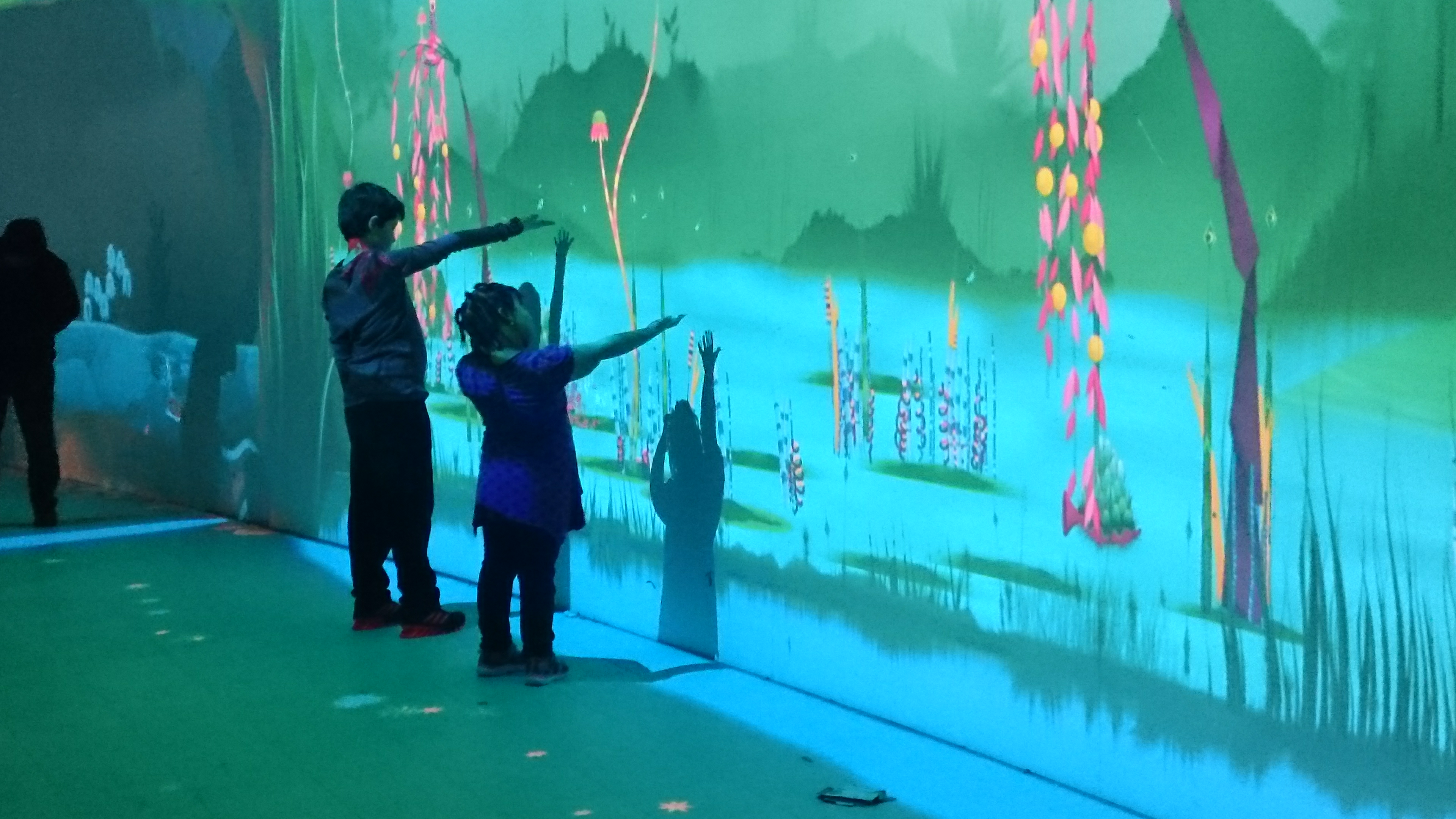 To be fair, I was an outside observer, and only watched one round, so maybe that does happen at other times, or maybe I just wasn't picking up on it. In this BoingBoing article Zack Gage, who consulted on the app , does say "My biggest pushes were for ensuring that the takeaways for children were experiential (to be unpacked later with educators/family members/friends) rather than a set of point-by-point facts or statistics" which I am very much down with in general.
However, it does sometimes feel like museums assume all digital should just stand alone as an experience, when it can actually really benefit from good facilitation and a bit of direction.
The Brooklyn Museum (and Morbid Anatomy, briefly): getting answers to the questions you want to ask in a museum.
I'm almost there! We paid a visit to the fabulous Morbid Anatomy museum, with its current wax work exhibition and nice cafe and shop full of things to covet (taxidermy I wished I could afford, or have a house big enough for). And then, finally, on my last day, we went to the Brooklyn Museum. It's a great collection, with really good interpretation, I thought. Very accessible, very clear. It's currently running a lovely show on Coney Island, definitely worth going to see.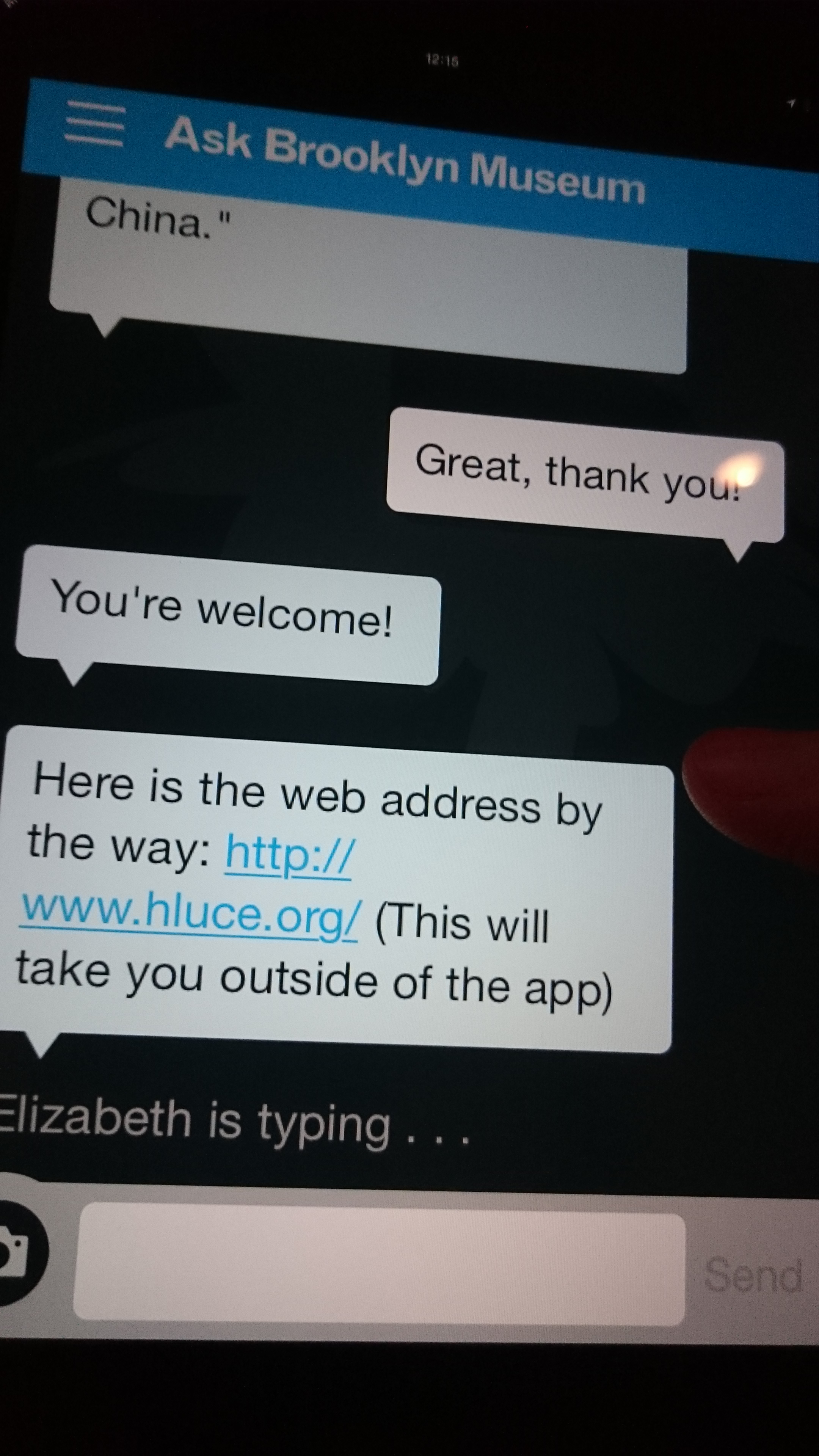 The work related reason for going was the ASK app, which allows you to ask questions of curators in real time. What a great idea, I'd thought, will it work? It did, with the patient Elizabeth answering my questions about the museum, its patrons, things I couldn't find, and the collections itself. The answers were rapid, and pitched at a useful level, including links out to other resources. My family got in the habit of coming up to me to fire off questions for the app, and definitely benefited from having this helpful resource.
It is super simple to use, fitting the maxim that a good app should do one thing well. I just wish it saved the answers so I could still see them, as it seems to have removed the content now I'm out of the building.
The team have been blogging the development experience on the Brooklyn Museum website, and it's well worth a read.
So, that was my East Coast USA #musetech experience. If you got this far, thank you for reading, I hope it was useful. Clearly, I still managed to miss many hundreds of other museums in those two cities (including the Tenement Museum in NYC, which people kept telling me about, and the Newseum in DC, which was also recommended for its use of interactives).
I guess I'll just have to go back.